Shopping
Closest to the villa, about a 10 minute walk away, is Manolos.  A great mini market, with just about everything you need, including great fresh fruit and vegtables and fresh crust baked bread.  Manolos closes from 3-5pm every day bar Sunday when he closes at 3pm for the day.  We use Manolos a lot when we visit as do most of the locals.  
Next to Manolos is a fishmonger.
For supermarket shopping there are a few supermarkets locally, two smallish ones at El Colorado, and larger ones at Novo Sancti Petri, Conil and Chiclana.  Full directions will be supplied before your trip.
El Colorado also has a chemist, a shop for beach toys, clothes etc and a ceramics shop and Roche has a small chemist a shop selling beach toys, magazines etc.
There are lots of markets in the area or if you do like to seriously shop, there is a large shopping mall at San Fernando and an outlet shopping centre with large restaurant plaza about 30 minutes away by car in the outskirts of Jerez (see map below, take exit 639 off of the A-4)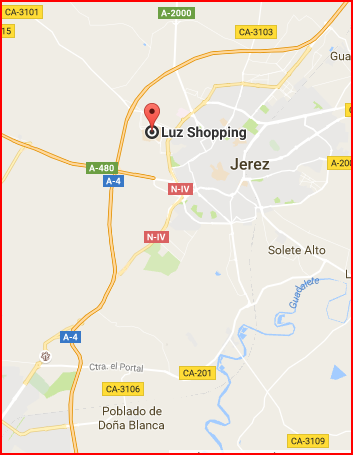 By using this website, you agree to the terms and conditions detailed on the Disclaimer tab.